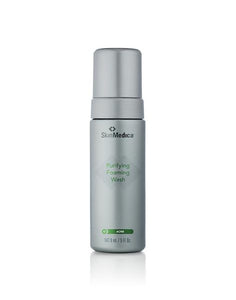 Purifying Foaming Wash
Acne treatment cleanser that helps clear up acne blemishes.
Appropriate for acne-prone skin.
Brilliant Distinctions® members earn 100 points per $150 spent
When to Apply
Apply as the first product used in your morning and evening skin care routine.
Where to Apply
Apply to your entire face, (neck and chest if desired).
How to Apply
Moisten skin with lukewarm water and gently massage into skin. Rinse thoroughly. Avoid contact with eyes. If contact occurs, rinse eyes thoroughly with water.
Active Ingredient
Salicylic Acid 2.0%:
A beta-hydroxy acid (BHA) with keratolytic activity to help reduce the number of acne blemishes.
Key Ingredients
Salix Nigra (Willow) Bark Extract:
A natural source of beta hydroxy acid that provides mild exfoliating activity.
Hamamelis Virginiana (Witch Hazel) Extract:
Mildly astringent, it helps reduce the appearance of enlarged pores. It is also an effective antioxidant.
Salvia Officinalis (Sage) Leaf Extract:
Considered to be astringent and have mild purifying properties.
Melaleuca Alternifolia (Tea Tree) Leaf Oil:
A natural preservative known for its purifying properties.
How long to use?
A good cleanser is a crucial part of your daily skin care routine.
What is special about this product?
Purifying Foaming Wash has 2% salicylic acid to help clear acne blemishes and other botanical ingredients to refresh skin.