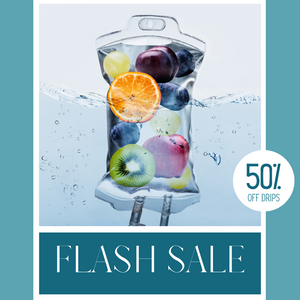 ⚡️ Flash Sale⚡️50% off drips prepaid for today
Flash Sale
50% off drips prepaid for today! Must be completed by this Friday. Drip menu & pricing below
Fountain of Youth
Regularly: $225, Sale: $112.50
Activate skin, hair & nails.
Natural Defense
Regularly: $175, Sale: $87.50
Attack sickness head-on, naturally.
If you're feeling under the weather or are already sick with the common cold or flu, this high dose of vitamin C & other nutrients will boost your immune system.
Rise & Shine
Regularly: $145, Sale: $72.50
Exhausted from little-to-no-sleep?
If you've had a long night out, this mix of essential vitamins & minerals replenished electrolytes, rehydrates the body & boosts your energy levels in just a few minutes.
The Executive
Regularly: $135, Sale: $67.50
Feel Sharp & mentally alert.
Fight stress caused by heavy workloads & long business days. This drip also helps you recover from jet lag, while giving you a
sense of sharper memory & focus.