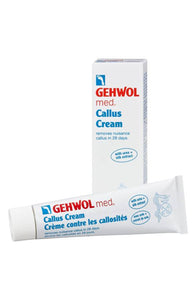 Gehwol Callus Cream
GEHWOL® Foot Care Callus Cream removes annoying calluses within 28 days. Urea, fortified with glycerin and allantoin, loosens the cell bonds of the hard callus layers. This intensive care immediately softens and noticeably reduces calluses within a few days. Normal conditions are generally attained within 28 days. Lipids strengthen and protect; silk extract provides moisture and smoothes the skin.
Effective ingredients: avocado oil, sea buckthorn oil, urea, glycerin, algae extracts, allantoin, farnesol.
Apply cream to affected areas twice daily. Do not apply to sensitive or injured skin. Do not bring into contact with eyes and mucous membranes. Regular skin care with Callus Cream is recommended to protect against the new formation of excess callus.