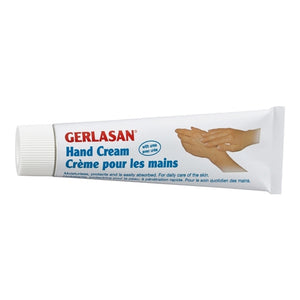 Gehwol Gerlan Hand Cream
An easily absorb hand cream that moisturizes, revitalizes, protects the skin.
For daily use and intensive care of your hands. Gerlan Hand cream consists of a special combination of ingredients including aloe vera, jojoba oil, tapioca starch and urea for the intensive care and protection of overstrained hands.
The combination of high quality ingredients such as urea, aloe vera and glycerin protects and cares for worn out hands. Antimicrobial active substances protect the skin from infections and the anti-inflammatory ingredients Bisabolol and panthenol promote healing while the antifungal clotrimazol completes the perfect protection, especially for hands that come in frequent contact with water and cleaning materials.
The quickly absorbed, non-sticky, moistening cream will protect the hands all around with regular application.
Active Ingredients: Protective care emulsion with urea, jojoba oil, glycerin, tapioca starch, panthenol, aloe vera, Bisabolol, triclosan, clotrimazol